The Main Building of Rakvere Vocational School with About 100 Years of History is Opened
07.09.2012
The newly renovated historical building of Rakvere Vocational School at 8 Piiri St in city of Rakvere was festively opened on 6th of September 2012, thus closing the modernization that lasted several years and cost around 10 million Euros.
Rakvere Vocational School (originally Teacher´s Seminar) is one of the most remarkable buildings in the city of Rakvere, both because of the architecture and the size. The initial author of the design project was an architect from Riga school district named A. Gieselbasch. The building constructed in 1915 is considered to be one of the most complete school houses in tsarist Russia, because it was both architecturally and from terms of use well thoughtfully solved.
Because the building is under heritage protection, the original beauty, grandeur and appearance of the building was restored. The possibility to use the historical documents preserved in the archives of St Petersburg helped the restoration process. The ways to preserve and exhibit the historical details of the building were also found during the design work.
As a main designer Amhold realized the design of buildings restoration-reconstruction project and all the associated studies. Prior to the composition of design work and studies the architectural-historical, engineering-technical and environmental expertises were carried out. After that construction projects for architecture, interior, building constructions and all the engineering components (heating, ventilation, air conditioning, water and sewerage systems, drainage, strong and weak current electricity systems, security and surveillance systems, automation) were designed. Also the projects for external networks, landscape, roads and squares were drawn and the designers´ supervision during the construction was conducted by Amhold.
Rakvere Vocational School is the biggest vocational school in the county of Lääne-Virumaa, where around 800 stationary students and 1000 adult students are educated.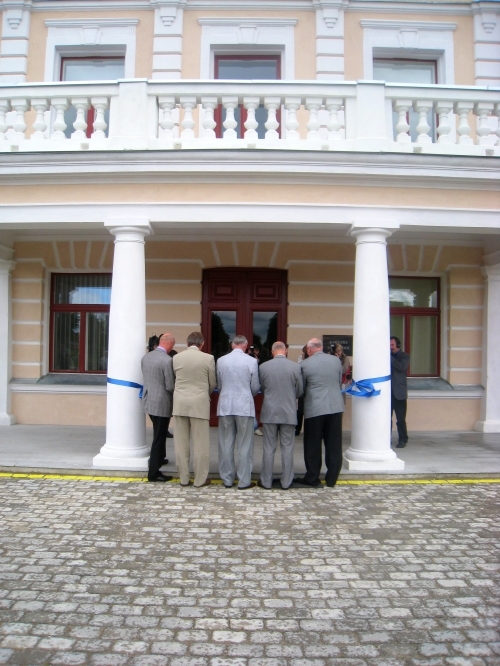 ---